Capsule 59: When Your Capsule Wardrobe Doesn't Go as Planned
This week's capsule was…a bust. I was very, very gung ho about trying this new black and white wardrobe thing I mentioned in last week's capsule! I'm still loving the simplicity, but quite a few of my pieces just did not work out for me this week. It was definitely a lesson in humility. It really, really sucks when you spent money and time picking something out you love in theory, and then it doesn't live up to expectations. But, I soldiered through the week, and I learned more about my style and my body, which is always a win.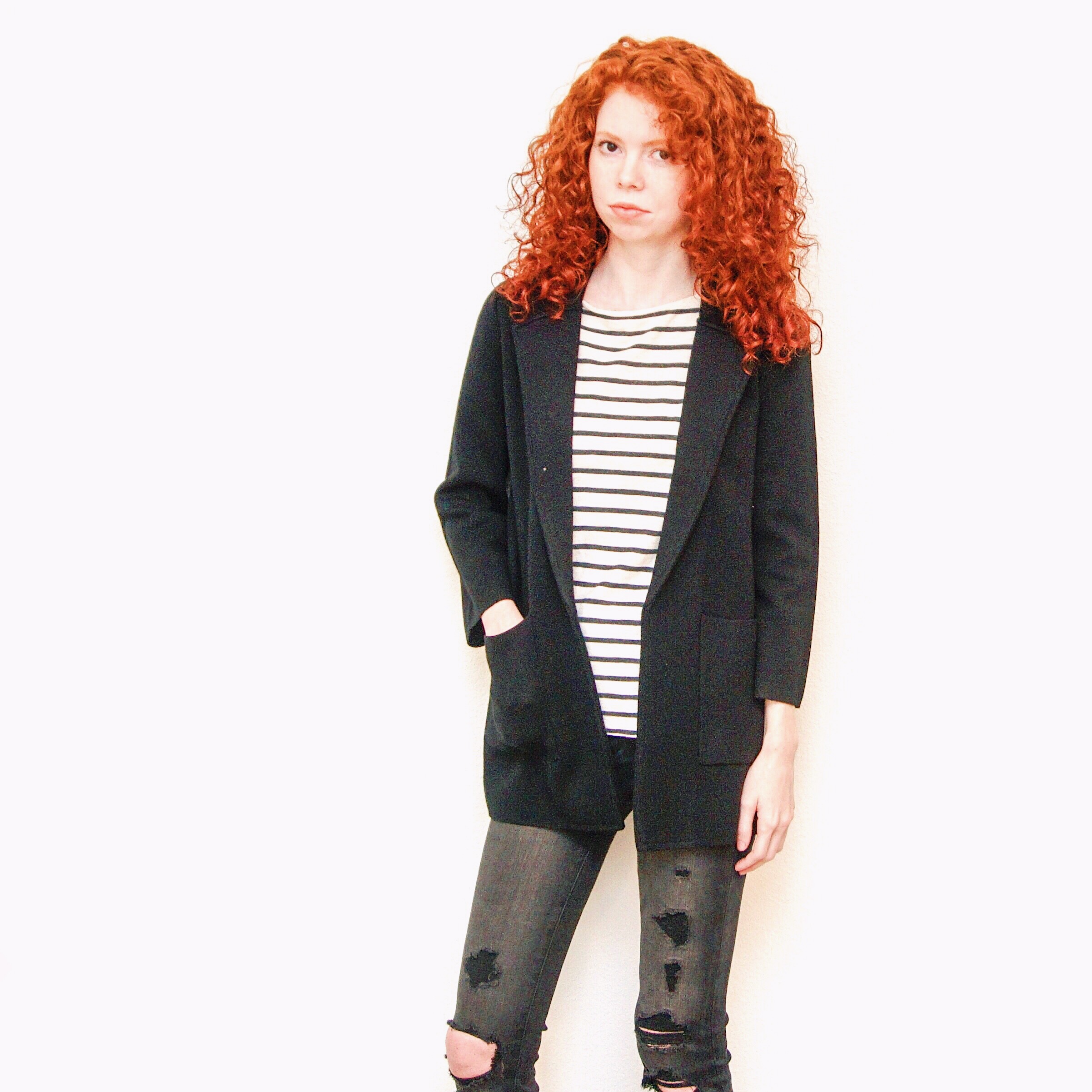 Look #1
If I saw myself in this outfit I would be thinking "dangggg, that girl is rocking that vintage goth look"!" But wearing it? All I'm thinking is "my belly button is so cold, why won't this stupid shirt go down" It really disappointing to love a look or a piece and then it just doesn't quite work for your body or your comfort. Previously, I would force myself to wear this because of that old adage "beauty is pain", but I don't want to do that anymore. Beauty is confidence. And comfort. Mostly comfort.
Look #2
When I laid this look out, I had really high hopes! Cue the latest Panic @ the Disco song. On my bod, I'm not so sure. I think it looks a bit more formal and mismatched than the sophisticated grungy black look I was going for. I love this new sweater blazer trend, but I'm going to have to play around with it more. It might turn out I'm more of just a cozy cardigan stolen from Grandpa kinda girl.
Look #3
This is a dress. Over jeans. I almost vomited writing that. I was…not a kind child at times. I distinctly remember seeing a girl wearing a dress over flared jeans in the early 2000s and asking why she thought that was a good idea and that it looked "super stupid". I meannnnn, it probably did! But we all make fashion mistakes (a lot!). I've noticed that this trend seems to be circling back around, and I wanted to give it a go. I tied my dress up on the side, because I just couldn't go FULL on dress and jeans. I'm on the fence. I kind of like it, but I can't help feeling a little disgusted! This one is definitely on the list to try again.
Look #4
The simplest look in this capsule was my favorite. A classic boxy cut tee with skinny jeans? Always and forever. What's your take on skinny jeans as of late? They seem to be going to the wayside at least a bit in favor of wide leg jeans or straight leg. Me, I'm not a fan of mom jeans or boyfriend jeans. I'm on the hunt for some straight leg jeans that aren't too wide, fingers crossed!
Look #5
I had the same issues with this look as with Look #2! The sweater blazer just wayyyy upped the formality of this very casual dress. I felt very business casual, which is a style I loathe on myself. I want to try styling this sweater much, much more casually. @karlareed on Instagram has styled this blazer with joggers and tees, which might be the kind of look I should go for. Pairing it with semi casual looks seems to take it into a more formal territory I'm just not a fan of.
Get the Look!