Capsule 57: Use it or Lose It
This week was my great challenge…climbing Mount Everest. Yeah, cause that totally happened. I mean, I consider my closet my own personal Everest, so it was basically the same. I cleaned out my closet a few weeks ago, and man was that a trip. I pared down SO MUCH, but when it came to tossing a few items, I just couldn't do it. So, every couple of weeks since then, I've been doing these little challenges of taking those pieces I'm unsure about and making outfits with them.
This way I get to take a good hard look at different outfits, how versatile this piece is, and I get to remind myself how I feel in this particular piece. Sometimes I wear a piece all day, and by the end of it I'm like "oh yeah, I remember why I hated this." It helps me feel much more confident in getting rid of most pieces once I wear it for an extended period, not just a few minutes in the mirror.
So, this week I chose alllll probation pieces. And lucky you, if you've been following along on my Instagram, you've gotten to vote on which things I should keep! No worries if not, I've thrown a few polls in here…which is totally for your benefit and not because I can't make decisions.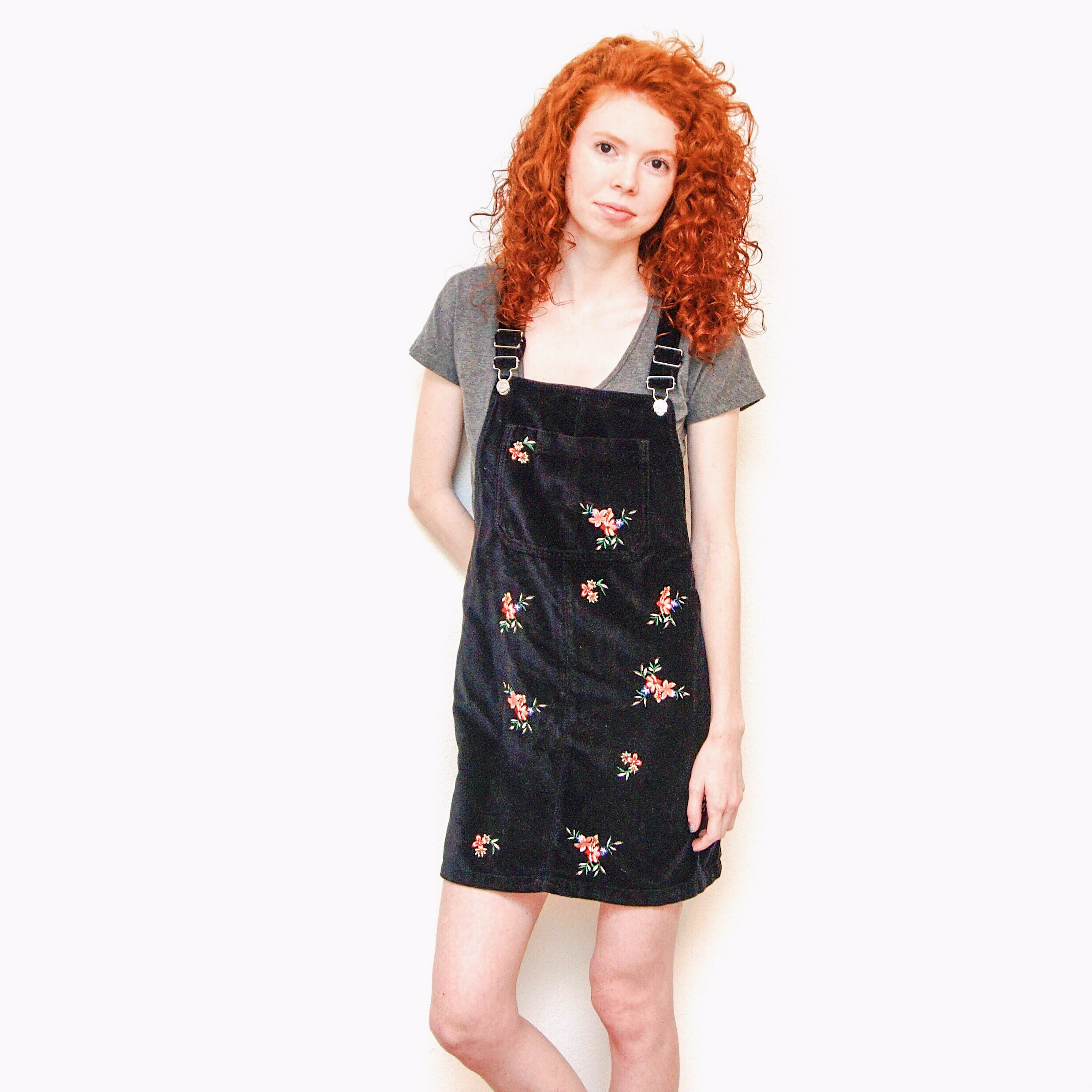 Look #1
You ever buy something that you just LOVE but then everyyy single person you show it to is like "uh.....that's unusual". Which is code for "I hate that and you look like an expensive hobo." Apparentlyyyy, that's the deal with this overall dress. I adored it, but the vast consensus from family and a good ole insta story poll is…
Which is probably a good reason why it was in this challenge to begin with. I was unsure about it, and those second opinions helped reinforce what I didn't want to admit.
Look #2
This is suchhh a basic look for me, but it's something I'm so comfortable in! I'm most comfortable when I have a little grungy grunge like these ripped jeans. Too much prim and proper and I want to scream. I knew it was pretty unlikely I would get rid of these jeans, but the tee I was on the fence about. I go back and forth about how flattering it is, so take your vote below and give me the final verdict! I won't tell you the results of my insta poll and let you be completely free of influence. Ya know, for science.
Look #3
Um. The poll on this dress was the tightest I've ever seen, and ultimately it ended just barelyyyy out of my favor. To be honest, I don't really mind. I was wanting permission for someone to say I could get rid of this, really. It served me well, but it's no longer my style. I got it right at the very start of my capsule wardrobe journey, and man was it one of the best purchases I ever made. It was a classic color, fit, and pretty flattering. Now, I have grown more comfortable with my body, and I'm wanting to show it off! I'm still pretty attached to it and having a hard time actually moving it to the goodwill bin...but I made the decision in my mind. So, baby steps.
Look #4
Y'all I was totally surprised on this one!! I thought like 80% of y'all would say "Girl, get rid of that nasty button down." But it was the total opposite! I kept this after my latest clean out, because the quality is amazing and it's such a classic. But just because something is classic doesn't necessarily mean it's your style. I like it but don't love it, so I'm not totally convinced yet.
Even though the poll says otherwise, I think I'm going to try some more outfits like this very one, that mix classic and edgy styles. That's truly my style at heart, but I have trouble sticking to it with all the pretty things I see! It's a struggle when the things you're drawn to and the things you feel good in are complete opposites.
Look #5
Finally, I tried out this look and bleh. I had already gotten the opinion that this was a no go, but I had committed to a week of outfits. So, I bravely soldiered through the good and the bad. If anything, this outfit has me questioning the gray tee even more! Take a stab on this last poll and make my decision easier. Clearly, I am incapable of decision.
My favorite part about this Use it or Lose It challenge is that I got to try these pieces in different outfits. I discovered that it's really easy to make snap decisions based on one bad outfit, but if you're getting the same opinion on multiple outfits with that piece? Well, it probably just isn't for you.
It was really helpful to see how everyone's opinions changed or didn't change when the outfit was different but a piece was the same.
I am 1000% still cultivating my style skills, so styling these pieces was also helpful to show me new ways things looked good and really just learn more about what looks good on my body.
Style isn't learning a set of universal rules and being really great at color pairing, it's about learning the rules for your body. We're all so, so different, and that's what makes our style our own.
Until next week, lovelies.
Get the look!